Cool Screen Recorder
Cool screen recorder is a useful tool for users to capture screen,audio,cursor,mouse clicks and keystrokes.
Everyone is familiar with the recorder tools because it is indispensable for us when we want to record contents in the vital occasion such as lectures,meetings,online education, etc.
What is screen recording software? What are the functions and benefits of the screen recording software? Well screen recording software is a tool for recording the activity trace on the screen of a mobile phone or computer as a video.Screen recording software has been widely used in many fields such as TV shows,online activities,tutorial explanations,video conferences,etc.
As you know,cool screen recorder is such a multifunctional and useful tool for users to record various videos. Let's get to know the features introduction of the Cool screen recorder.
Record Video
The interface of cool screen recorder is concise. In the home page ,there are six record choices for you to select,namely Only Audio (for only audio recording), Full Screen (record full screen),Screen(record a specific screen),Window(Record a specific window), Region(Choose the record region by yourself),Desktop Duplication is for game recording. Just select the specific option when you need to record something.
What's more, if you want record video for teaching, "include cursor" , "mouse clicks" ,"keystrokes " will be used ,please remember to turn on these buttons while recording. The Video Encoder area including parameters such as FFmpeg, Gif, SharpAvi, Stream,Discard, which is useful for the professional video recorder users to create vivid and beautiful videos. The last area we would like mention is Audio and Webcam. You can set them accordingly ,but the default format is good enough for most of the users.
What if you forget saving the video after recording? Well ,please calm down and don't worry. Since the cool screen recorder save the video automatically. You can find the video in Recent area.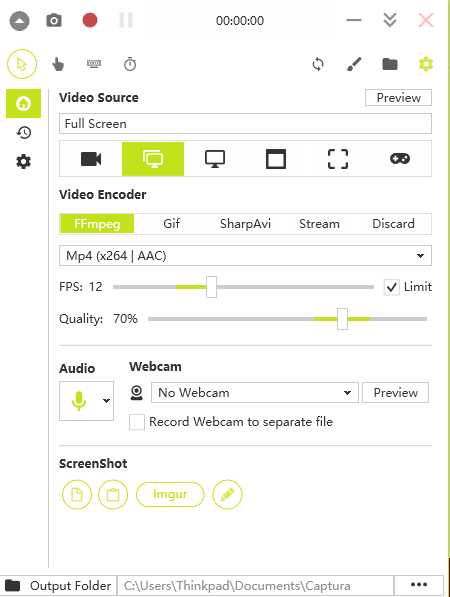 Take Screenshots
With cool screen recorder,you can not only record videos and audio but also take screen shots.Now we'll tell you how to take screen short via cool screen recorder.
On the top left corner of the interface,you can see a camera icon. Please take screen short by clicking the camera icon if necessary. After taking the screen short, a dialog box shows immediately for you to edit the image and at the same time you can see a notification tell you "image saved to clipboard". The screen short will be saved immediately to clipboard.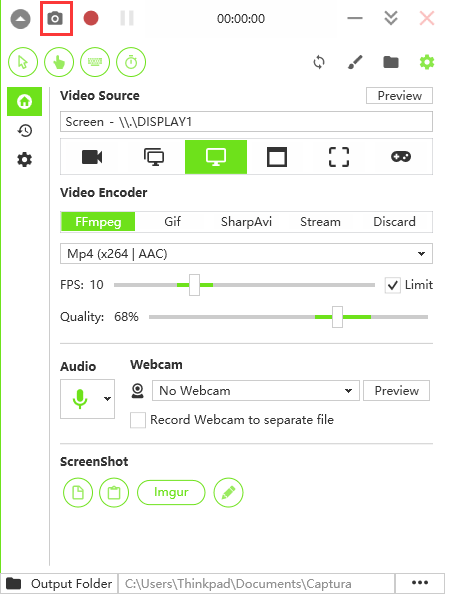 One thing you have to pay attention is there are two configure buttons on the surface.One is on the left fringe ,you can set language, pre-start countdown,capture duration etc , another is on the top right corner, all of the features show here are concealed in the configure option that is on the left fringe. Furthermore, there is another way to get into the top right corner's Configure. When you click the left fringe configure you can see a button on the bottom area named "Configure…",please select it and you can see the interface is as the same as the another configure.
We believe all of you want to record good memories and create remarkable videos for daily life or work. Cool screen recorder is able to meet your needs. Try it ,you'll get surprised.