People Like Taking Notes
The popularity of Office Editing never decline. People in this industry is continuously keeping going, for they want to create the advanced word editing tool for people in work. We are familiar with all kinds of word editing tools. From Win7 to Win10 system, maybe we have installed numerous versions of word editing tool. As the upgrading of the internet system, the requirement of the software we use must be developed to be compatible with it.
Electronic Notes is Popular
The number of Win10 users in the globe is increasing so the relevant software such as word editor is becoming more and more popular. To write down the tips is a good habit, for we will have less chance to forget it. It also provide a reminder for us to remember finish the to -do list we have written down. According to a report shows recently, both paper notebook and electronic note are popular. They have a substantial number of customers in the world. What's more, the products relative to note are in great demand. Especially the electronic notes, because of its portable and flexible features, are part of people's life.
A Good Word Editor
Do you have a habit of taking notes in daily life? We believe most of you will say Yes. Writing down our dream is a pleasant thing, and wring ting down plans and to-do-list as well. While we are working in the morning, we need write down something we need to finish before afternoon. After finishing a plan, tick one. Before getting off work, check the list to see  your whole day achievement. This is the common method that the staff in company adopt. This is such a great practice as businessman get. We bring good news to win10 users  this time. You immediately can get a powerful word editor. It is Document Editor Pro for Windows. 
We design it mainly for Win10 Users. Their preference is to keep pace with the advanced and up-to-date technology. Win10 is special and it also need a nice word editor to get together. You can create a new file with various formats. For example, blank document, take a tour, letter, fax, and to-do-list.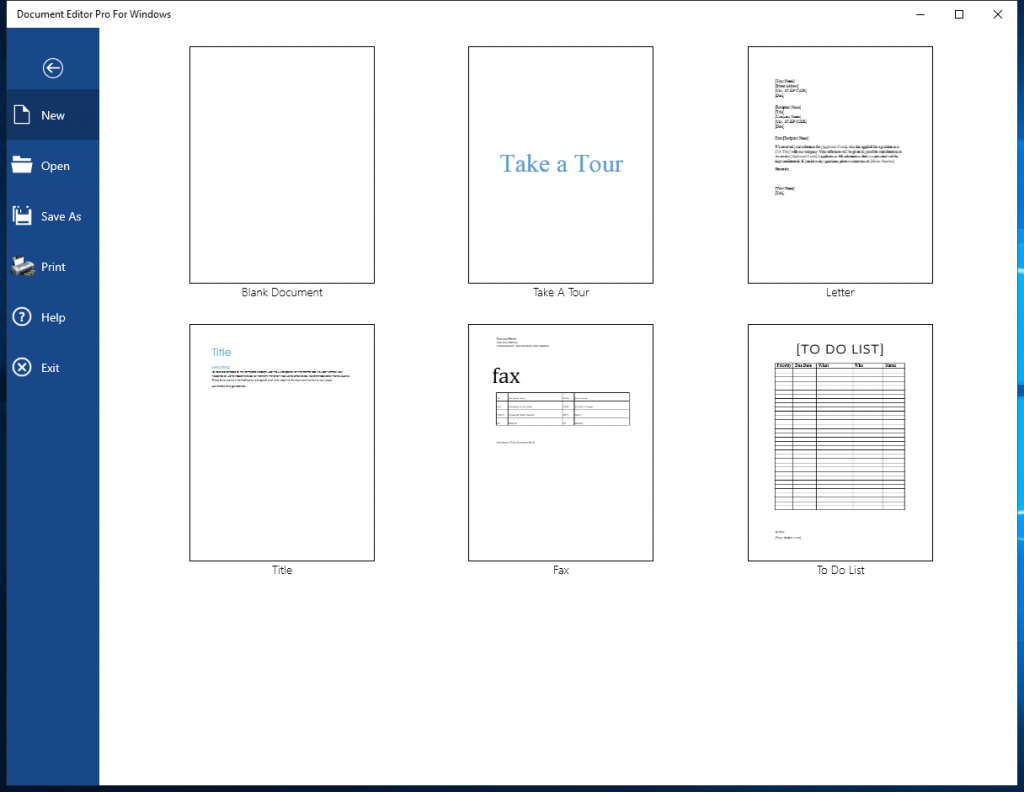 The blank document can be amended to any format you like. It is like a blank paper waiting for your writing. Saving and editing anytime, wherever you go. Every time when you open the note, it effectively provides service for you.
"Take a tour" is for one who is on a business trip or go out for a sightseeing. The cover for the tour list is ready. It is waiting for your filling the tour plan, feelings, and experiences.
To write a letter or e-mail is available as well. The letter form can be find in Document Editor Pro for Windows. It really is a practical editor, isn't it?
Writing to-do-list is daily work for us. You can order your plans by priority, due date, what, who, and status.
Document Editor Pro for Windows is a portable and smart tool for you to manage your document and take notes. It is an advanced editor that support your work.