What is cool player?
Cool payer is one of a popular players that can play most of the multimedia files as well as DVDs, audio CDs, VCDs and various streaming protocols. The interface of cool player is concise,it is easy to use.
How can I get cool player?
Please download the software from Microsoft store . Please visit the website and click the icon named get it from Microsoft .


Is cool player a free software?
Cool player is open source software and completely free. It provides a huge range of features that are easily accessible and available for use. People love using these features, and enjoy working with cool player.
How to use the media menu?
If you want to use commands to open file,open multiple files , open folder, open disc,and convert or save, you must use the media Menu. It will help you to perform these functions easily and conveniently. The frequently used option is open disc and open file. Click the button and select the file you want to open then you can see the file you open. If you want to play DVD,please choose open disc .Well ,if you only want to play audio file and video file , just select open file .
How to play blue-ray?
Nowadays ,the blue-ray files are common in our daily life .So this function must be included in cool player software. After opening cool player,please select open disc on the media menu.Then there will be a dialog box appears .Please select blue-ray and click browse to choose a device or a video folder.
Does cool player support all the blue-ray?
Currently , the cool player only support the common blue-ray format. We are working hard now to develop the new features to support all the blue-ray formats. Certainly ,we believe that moment is not far.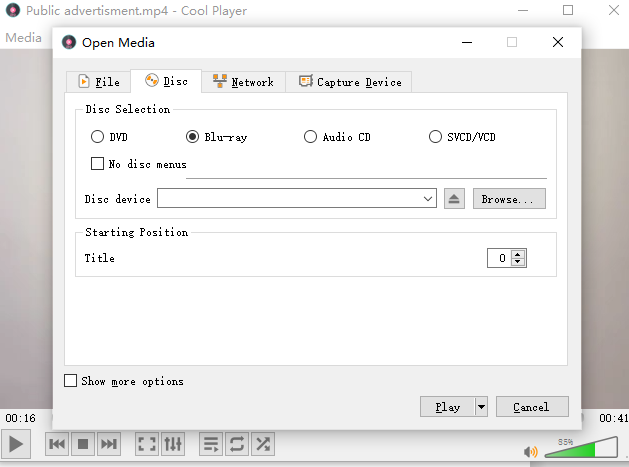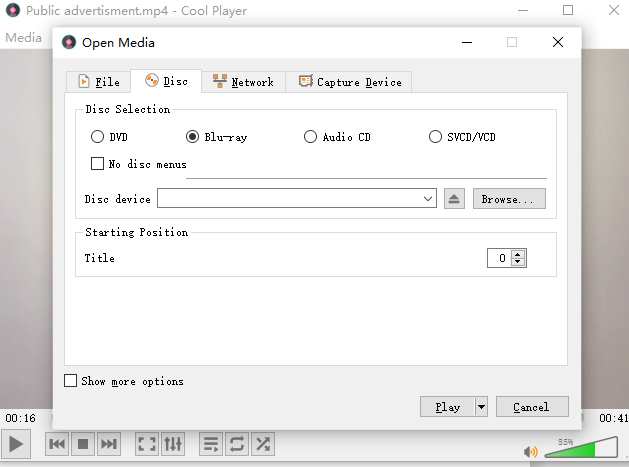 How to exit or close the cool payer?
Once you are done with working on the cool player, you need to exit this software.
Once you press on the quit option, it will close all the cool player projects.
How to find all my video and audio playlist?
While using cool player ,we always want to see the playlist.Because in this way ,it is easy for us to select the file we want to open and change. Here is the answer bellow.
Click playlist from the view menu ,you can see my videos and my music options. Select them respectively you'll see the video playlist and music playlist.
Will I be disturbed by ads while using cool player?
Please don't worry about this. There is no ads on the cool player software . Also ,we can confidently say the cool player is also the no-virus application .
Is cool palyer safe ?
Certainly.The cool player is created by the professional team . It is has great stability ,and compatible with the Microsoft system .
How to get help when we have problems ?
Please click "help "button and choose quick start guide or privacy policy to get help . The "quick start guide" only provide general basic QA.But the privacy policy page show you more details about privacy protection and provide the e-mail for you to contact us.
Thank you so much for visiting our website and reading the passages .