Skilled in cool player will help you work efficient in many fields such as Education, Business,Medical.
Cool player is a fantastic software that open most of the videos and audios .Also,It is the favorite media player for most of the music lovers.
How to disable video track?
If you only want to hear the sound of the video and needn't want to be tracked. This function will be useful for you now. Please select the video track on the video menu and click disable then you can only hear the sound of the video.
The multifunctional option-Open multiple files
If you are a professional video or music editor ,this passage will be valuable for you .Capture video,play blue-ray disc ,open video from other website such as Yahoo,YouTube , maybe all of these are what you want to do.And with one option-open multiple files can help you do the complicated work.
Click open multiple files on media menu, you can add local files with file option, the Disc option is for you to open blue-ray,DVD,Audio CD,SVCD.Well,you can also click open disc directly to play blue-ray disc. The Network button is available to open other website video .That means you can open YouTube videos ,Yahoo videos .You only need to paste the URL in that box . Capture device,as the name means,it is mainly provided here for users to capture part of the video.So that the users can create their own works.
Know more about cool player
If you are a Sound tuner, you are able to use large parts of cool player. Extended settings will help you a lot. Please turn to play control area,and select the option named show extended settings . After selecting it ,you can adjust and set audio effects ,video effects and synchronization.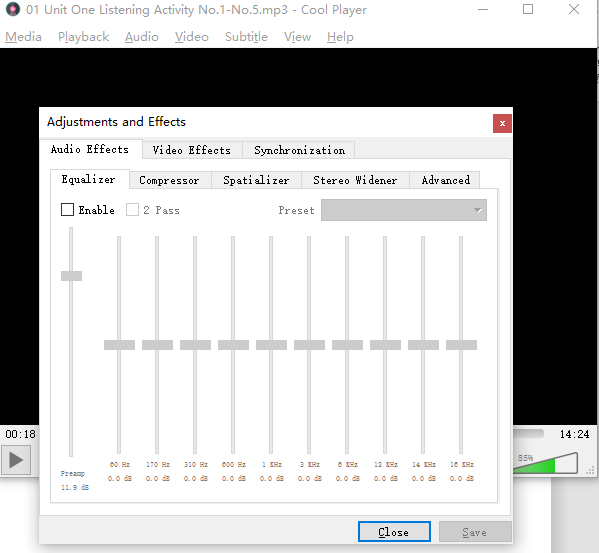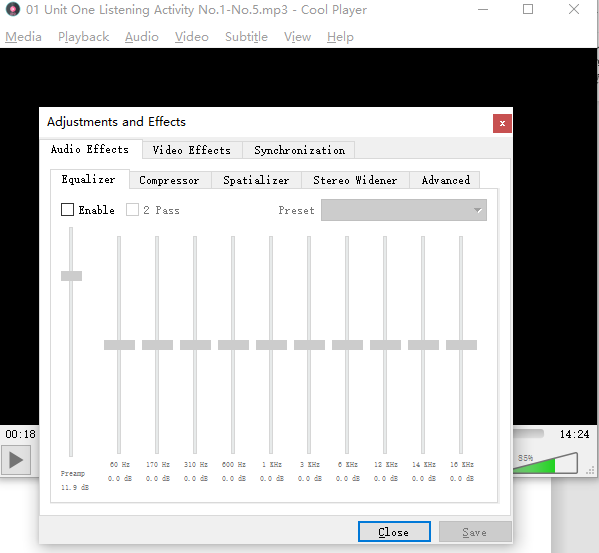 This feature is special for the users to set different style of the video and music .Please try it ,we believe cool player will be your preference.
Do not lose any single playlist
In our daily life,some pieces of music or video are valuable and unforgettable and we want to collect their name list.Thus,we often want to save them forever and take them out to recall all the good memories someday.Cool player here can make your dream come true.
One thing you need to do is selecting save playlist to file. In that way ,all of the video name and music name can be saved in a file. With the time goes, when you take them out one day in the future, you'll feel surprised for the specific kind of music or video you love to listen or watch.
Great player for students
Because of globalization , everyone have to learn second language .Language learners practise listening every day and cool player can make them be closer to success. Because users can change speed while they are listening to audios.
Please select speed on the playback menu, there are faster, faster(fine),normal speed,slower fine,slower for users to choose.
Cool player team takes all of the users' suggestions into consideration . We welcome all of you contact us anytime when you have problems about using cool player.